With its rich and savory sauce and its variety of fresh herbs, ghormeh sabzi is sure to please even the most discerning palate. This delicious and hearty stew is a great way to experience the flavors of Persian cuisine.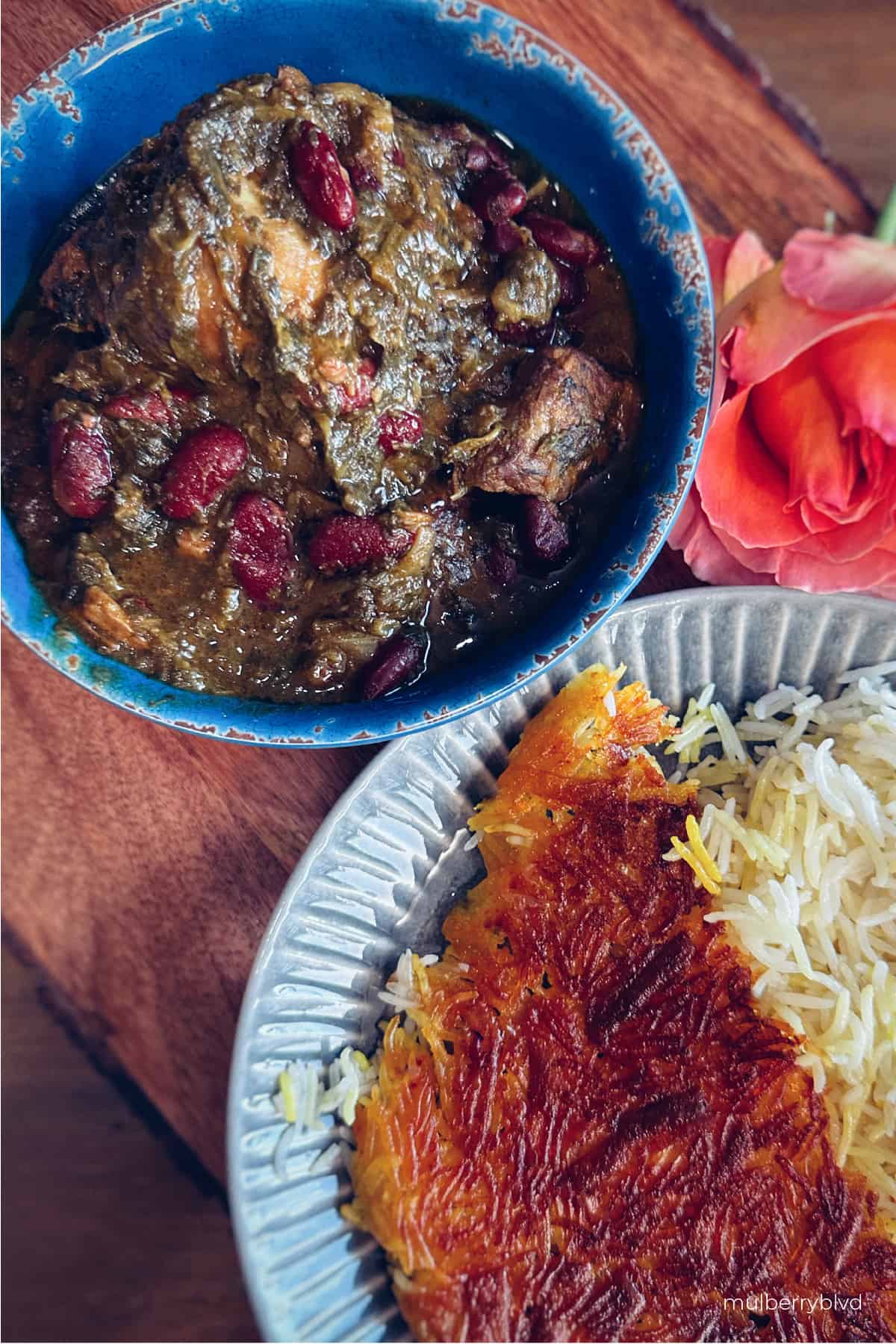 Of all the Persian dishes I make for my family and friends, ghormeh sabzi is always the most requested. It is a thick, delicious stew with both strong and subtle flavors that leave you wanting more. The stew's robust sauce is perfectly balanced by the fresh, lively flavors of the herbs, creating a memorable combination for your taste buds. As an added bonus, this stew is great the next day, making it perfect for leftovers.
Jump to:
Watch my short tutorial video below!
Ghormeh Sabzi Ingredients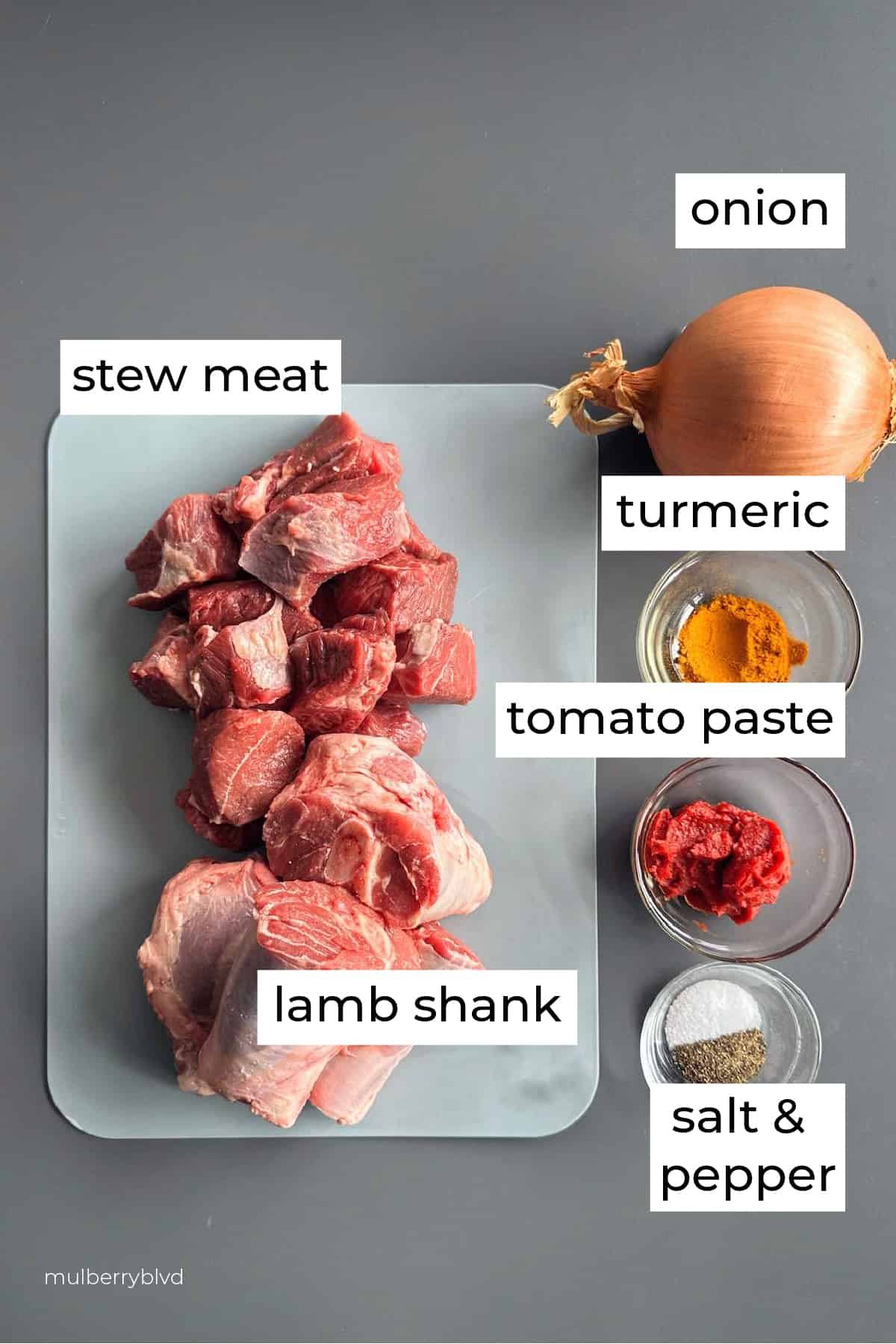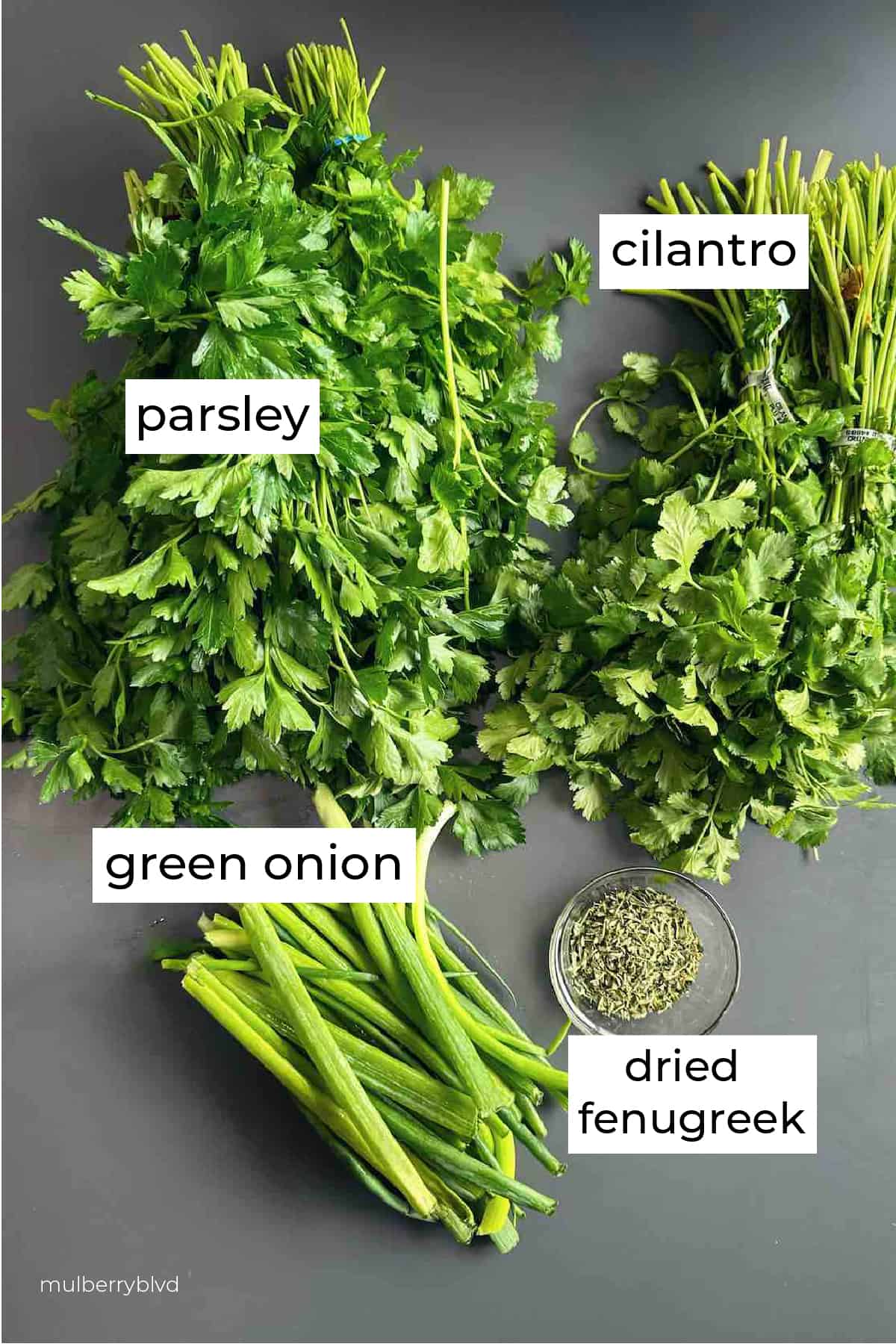 The combination of fresh and dried herbs add an abundance of vibrant flavors to this stew, and give it a flavor profile that is distinctly its own.
Here is the list of the main ingredients you'll need:
flat leaf parsley
cilantro
green onions, green parts only
fenugreek (dried)
onions (red or yellow onions)
olive oil, canola oil, or other neutral oil
lamb shanks
stew meat
beef or chicken broth
tomato paste
canned kidney beans
fresh lime juice
Persian dried limes, also known as limo amani or omani limes, have a sour and earthy flavor. They provide a little acidity to this dish, but together with the mixture of sautéed herbs, they have a crucial role in defining the flavor of ghormeh sabzi. To prepare them for the stew, soak them in water for 15 minutes, then poke holes in each one before adding it to your stew. You want the limes to stay intact, but the juice to be released into the stew. The inside of the dried lime can taste slightly bitter, so it is best to add these limes in the last stage of cooking, usually the last 30-45 minutes. If they do fall apart, then remove the lime from the stew.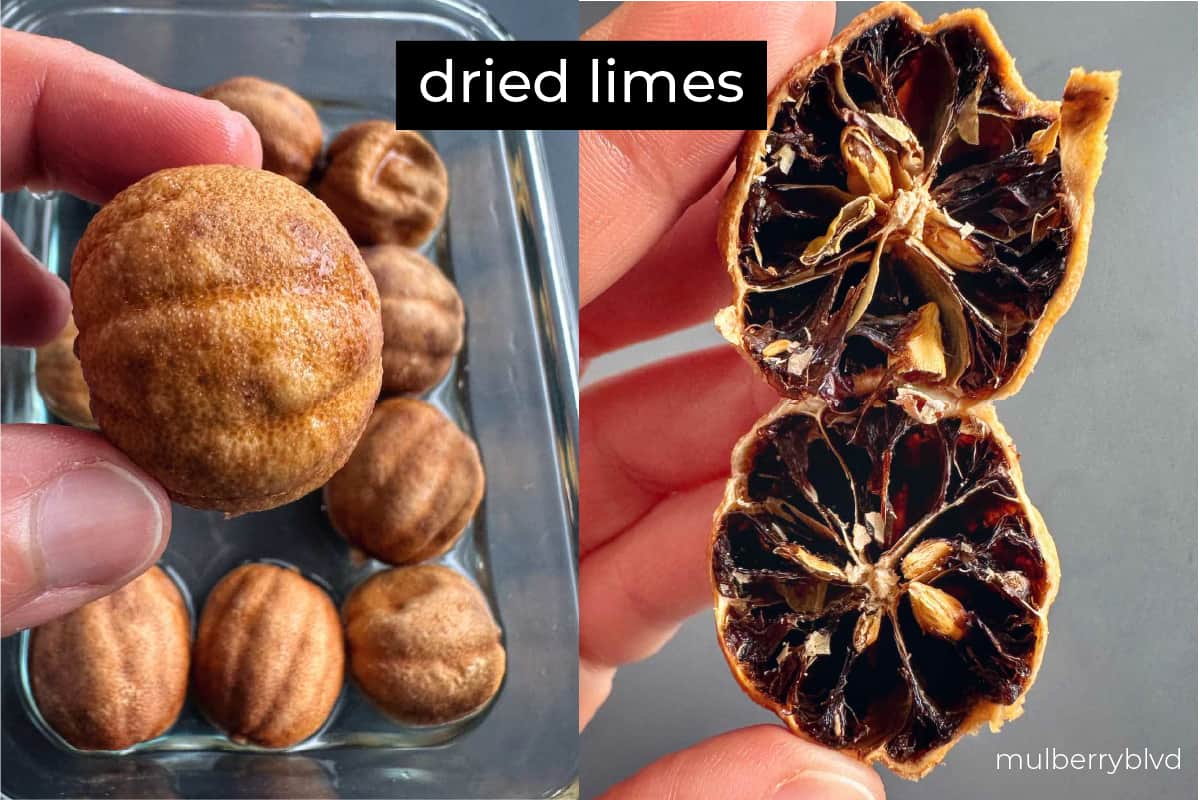 Please refer to recipe card below for quantities.
Ghormeh Sabzi Instructions
Gather all ingredients. Wash your herbs in cold water, then spread them out on a clean kitchen towel or use a salad spinner to dry them completely. Chop them, either by hand or in a food processor.
Cut your stew meat into 2-inch pieces, and remove any excess fat. If you are using lamb shanks, which I recommend for additional flavor, have your butcher cut them each in half, making a total of four pieces.
Brown the lamb shanks on medium high heat in a large pan until golden on all sides. Then remove from your pan and set aside.
Sauté the onion and add the stew meat in the same pan, then add salt and pepper and brown all sides. In the last 5 minutes, add the tomato paste and turmeric and continue to sauté for an additional 3 minutes.
Transfer the meat to a pot, add the broth, and allow to slowly simmer with the lid on. Lamb takes several hours of slow cooking to become soft and delicious.
Meanwhile, fry the fresh herbs and fenugreek. You will need to fry for about 20 minutes to ensure that the flavors of the herbs develop, and then set aside.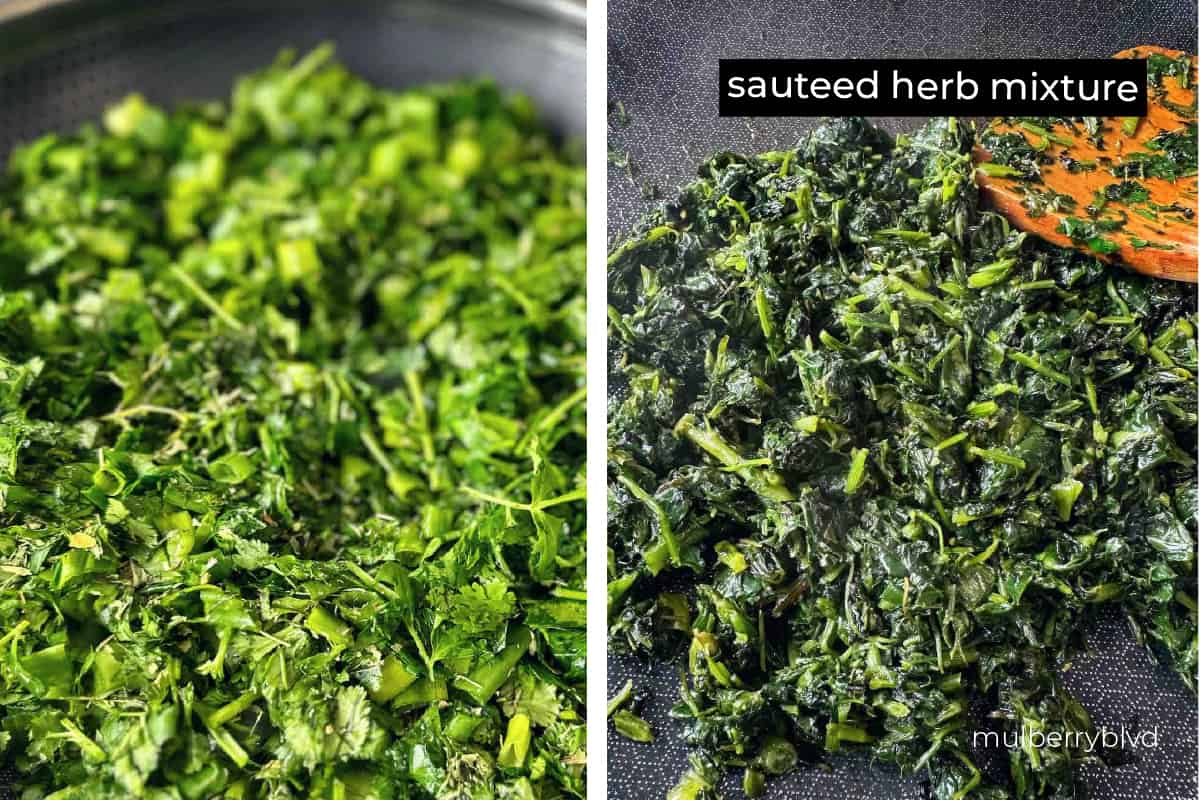 When the lamb is 75% cooked, add the fried herbs and allow the flavors to meld. Stewed lamb meat only improves with longer cooking, so simmer for an additional 30 minutes or more. If the stew needs more liquid, simply heat up some hot water or broth and add it to the pot.
Now add the kidney beans and dried limes and cook for an additional 30 minutes. When the stew is ready to serve, taste and adjust the seasoning with salt or lemon juice to your liking.
Simmer this traditional Persian stew for a long time on medium-low heat, allowing the tender lamb meat to soak up the flavors. Serve with a hot plate of saffron rice and enjoy!
Substitutions
Traditionally, parsley, cilantro and fenugreek are the foundations of this dish, which give this stew its distinctive aroma. Fresh parsley and cilantro are readily available at most supermarkets, but fresh fenugreek is less common, so I prefer to use the dried form. If you are short on an herb, chopped baby spinach can be added to the stew to give it more substance without affecting the overall flavor profile.
Many Middle Eastern stores carry frozen and dried herbs, specially for ghormeh sabzi. If you are using dried herbs, I suggest that you rehydrate them prior to frying, and always adding at least one fresh herb or spinach to the dry herbs.
Leeks or chives can be used in addition to, or as a substitute for green onions.
Dried limes are an important flavor in this stew. If you cannot find them, please substitute with 1-2 tablespoons of lemon juice during the last 15 minutes of cooking.
Kidney beans can be replaced with pinto beans or black-eyed peas (also called black-eyed beans). If you are using dried beans, I suggest that you cook them separately and add them in the last stage of cooking your stew. I used canned beans, making sure to rinse and dry them before adding them to the stew.
If you do not have lamb shanks, simply leave them out. Lamb shanks add extra richness to the stew, but are not necessary to the flavor.
Variations of Ghormeh Sabzi
Vegetarian and vegan
The lamb and stew meat can be replaced with tofu.
The bone or chicken broth can be replaced by vegetable broth or hot water.
Prepare the tofu by frying it in oil to get it crispy, then add to the stew in the last 15 minutes of cooking.
Top Tip
Persian stews are great make ahead meals, as their flavors develop over time. The entire stew can be made one day ahead, and reheated on the stove top on low heat. If your stew is too thick, you can add ¼ cup of broth or hot water to it.
FAQ
Question 1
What are some alternative meats I can use if I dont like lamb?

Traditionally, ghormeh sabzi is made with lamb stew meat and lamb shanks for flavor and depth. However, you can also use beef stew meat, chicken thighs, or a vegetarian option like tofu.
Pairings
Like all persian stews, ghormeh sabzi is best served with fluffy basmati rice. Salads that often accompany this stew are a simple fresh green salad or Salad Shirazi.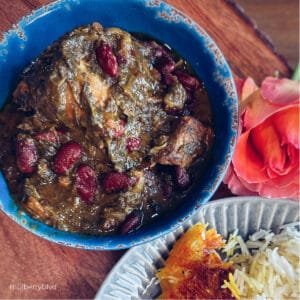 Persian Fresh Herb Stew (Ghormeh Sabzi)
Ghormeh sabzi is often referred to as the king of Persian stews, and its popularity is not surprising given its delicious taste and fragrant aroma.
Ingredients
4

bunches

parsley

2

bunches

cilantro

2

bunches

green onion

green parts only

2

tablespoon

dried fenugreek

1

large

onion

thinly sliced (or 2 medium onions)

2

lamb shanks

cut in half

1.5-2

lbs

stew meat (lamb)

1

can

low sodium broth

chicken, beef or bone

2

tablespoon

tomato paste

2

teaspoon

turmeric powder

1

teaspoon

black pepper

salt

to your preference

6

Persian dried limes

1

can

red kidney beans

rinsed and drained

1

tablespoon

fresh lemon juice

oil for cooking
Instructions
Gather your ingredients. Wash, dry, and chop the herbs. Cut the stew meat into 2-inch pieces and remove any excess fat.

Pat the lamb shanks dry and season with salt and pepper. Heat a large pan over medium-high heat and add a tablespoon of oil. Brown the lamb shanks on all sides, about 5 minutes per side. Remove the lamb shanks from the pan and set aside.

Add the onion to the same pan and cook until softened, about 5 minutes. Add the stew meat and cook until golden, then add the tomato paste and turmeric and cook for an additional 3 minutes. Place both the lamb shanks and stew meat mixture in a large pot and add enough broth to cover the meat. Bring to a boil, then reduce heat to low and simmer for 2 hours, or until the lamb is tender.

In a large pan, heat a generous amount of oil over medium heat. Add the chopped herbs, green onions, and dried fenugreek and sauté, stirring for 20 minutes, or until the herbs are dark green and fragrant.  This step is very important for developing the flavor and color of this stew.

Add the herbs to the stew pot and simmer for 30 minutes.

Add the kidney beans and dried limes and cook for an additional 30 minutes on low heat.

Once the stew is ready to eat, season with salt and lemon juice to your liking.
Video