This satisfying caramelized banana smoothie is a delicious and nutritious way to start your day. The caramelized bananas add a natural sweetness and a pure banana flavor that is hard to resist. It's a simple recipe which can easily be customized to be dairy-free or high-protein.
Do you have a bunch of overripe bananas that you don't know what to do with? I know I do! You buy bananas with good intentions, but a week later, they're still sitting on your counter.
I have a very hard time throwing away food, so my go-to is to make banana bread. But let's be honest, how much banana bread can one family eat?
Here's an option that takes care of those bananas, extending their shelf life while giving them a boost of flavor that a lot of bananas lack. Once you've had a caramelized banana in your shake or smoothie, you'll never go back to a plain banana shake again.
Watch my short tutorial video below!
Jump to:
Caramelized Banana Smoothie Ingredients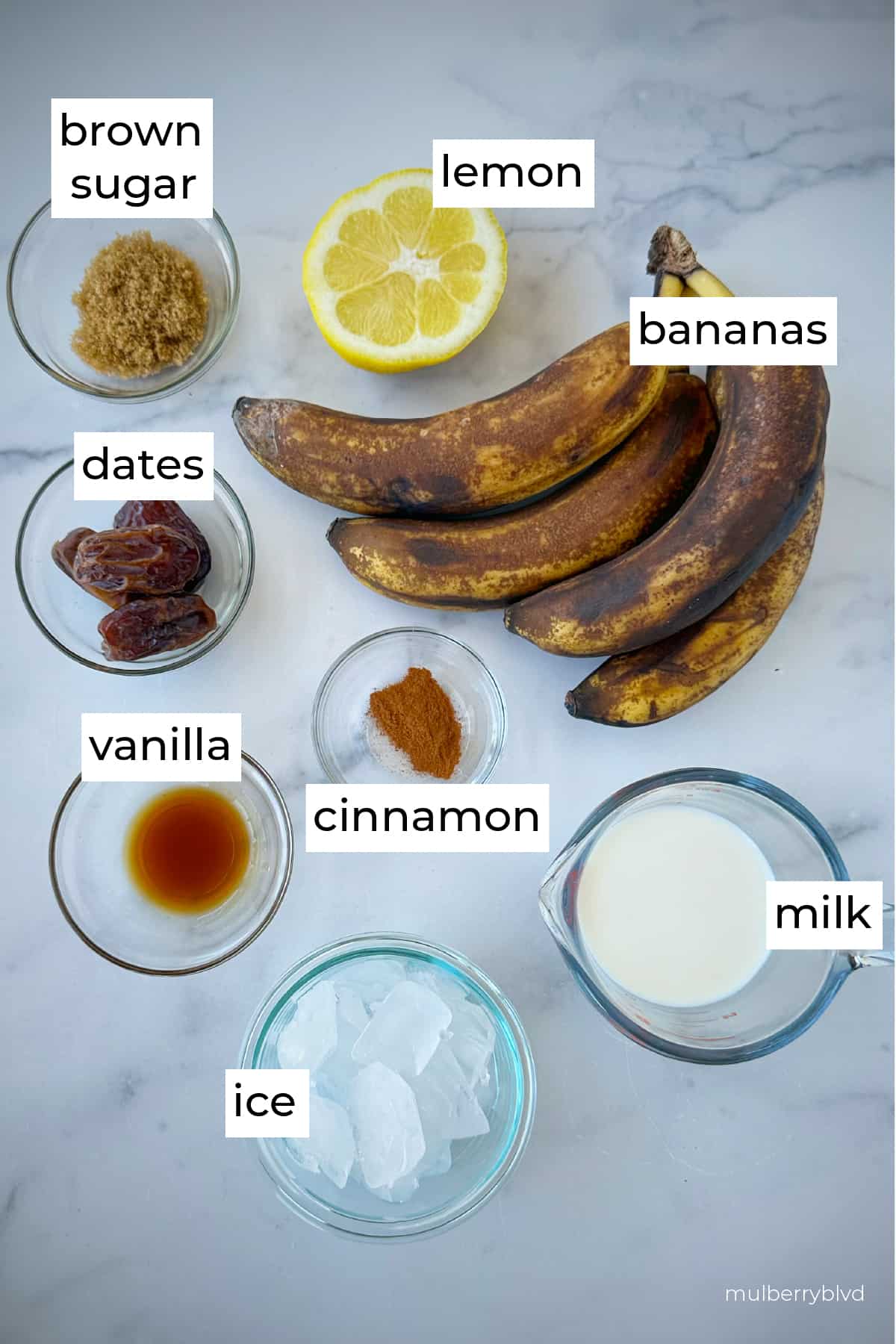 Here is a list of the main ingredients you'll need:
Whole Bananas
Lemon
Brown sugar (or coconut sugar)
Dates (preferably medjool dates)
Cinnamon (optional)
Milk of your choice
Ice
Bananas
Bananas are one of the most popular fruits in the world, but they are often overlooked for being boring or bland. But I think that they have so much to offer! First, they are rich in potassium, dietary fiber, and a good source of vitamin C and B6. Second, bananas are so versatile and can be eaten raw, frozen, fried, or baked. Best of all, they are economical! In San Francisco, where I live, the price of most fruit fluctuates with the seasons, but I can always purchase 6-7 medium bananas for just under $2.
Medjool Dates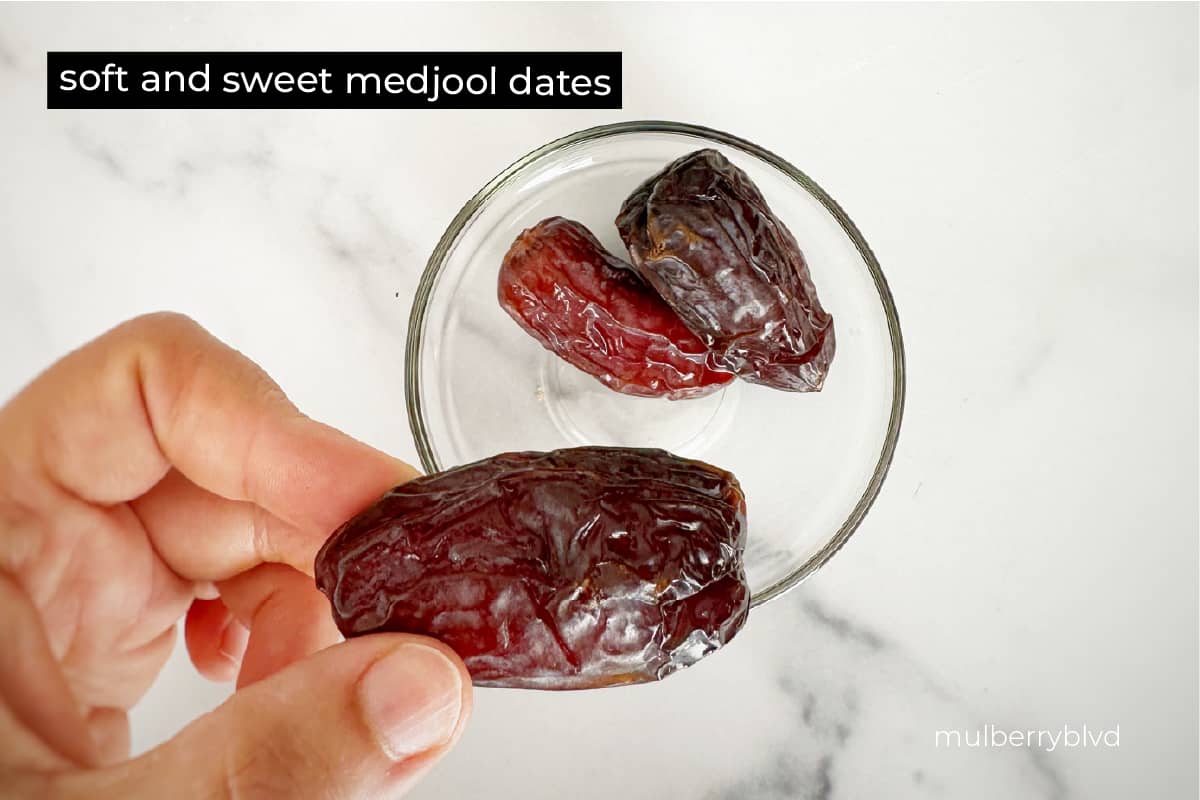 Medjool dates are the largest variety of dates and are known for their deep brown color, soft texture, and caramel flavor. They make a a great addition to this smoothie and are a good source of fiber and potassium, as well as antioxidants.
See recipe card for quantities.
Caramelized Banana Smoothie Instructions
Place the vertically sliced bananas on a parchment lined baking pan. Drizzle with lemon juice and sprinkle with brown sugar. Place in the preheated oven.
Bake until the bananas caramelize into a beautiful golden brown color.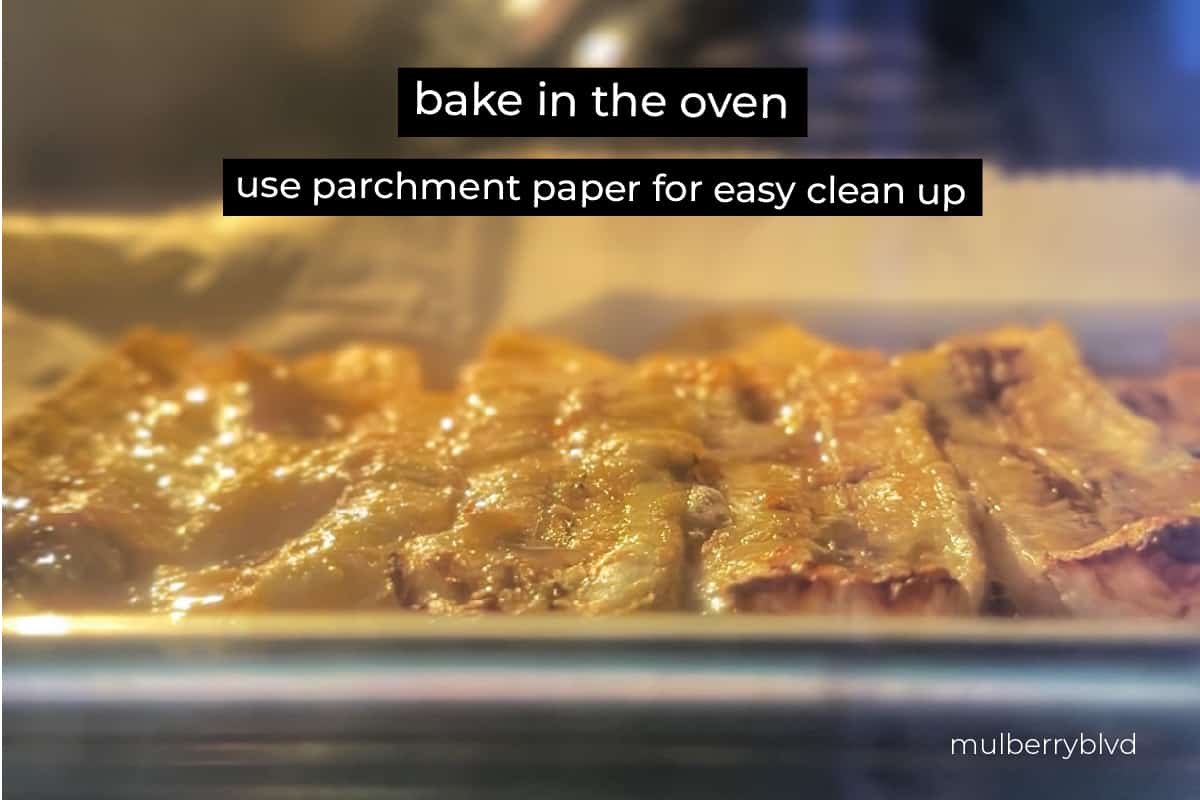 Once done, let the bananas come to room temperature and freeze in zip-top bags.
To make the smoothie, add the frozen caramelized bananas, dates, cinnamon, vanilla, milk and ice cubes to a blender. Blend until smooth. Serve in tall glasses and enjoy!
Variations to the Caramelized Banana Smoothie
Vegan and Dairy Free
My recipe is already gluten-free, nut free, and vegetarian, but can also be made dairy free and vegan. Simply replace the milk with almond, oat, macadamia, soy, or another plant based milk that you enjoy drinking.
Caffeinated Smoothie
Add a shot of cold espresso to the smoothie for a boost of energy
Caramelized Banana Milkshake
Add one cup vanilla ice cream to make this into a thick and creamy milkshake. Serve in tall, chilled glasses with fresh whipped cream (optional) and a drizzle of caramel sauce. It's a delicious dessert the whole family will love.
How Can I Add Extra Protein to My Banana Smoothie?
Add 1-2 servings of vanilla protein powder, and increase the ice by ½ cup
Substitute a protein shake drink for the milk
Add 1 tablespoon of chia seeds, sunflower butter(nut-free), almond butter, cashew butter or peanut butter
Add ¼ cup of uncooked tofu, and increase the vanilla extract to ½ teaspoon
Add one scoop of Greek yogurt or cottage cheese
Equipment
Caramelized Banana Smoothie FAQ
Can I use unripe bananas to make caramelized bananas?
Yes, but cooking times will vary depending on the ripeness of your bananas.  The main difference between over-ripe bananas and unripe bananas will be the level of sweetness. Baking the bananas does concentrate the sweetness, however, you may still want to add an additional date if you are using unripe or green bananas.
Can I use the caramelized bananas hot out of the oven?
For this smoothie, I recommend freezing the bananas for at least 15 minutes, but preferably 1 hour or more. Hot bananas will make your smoothie watery and warm. However, hot caramelized bananas taste lovely with a few cups vanilla ice cream.
Can I replace the milk with non dairy substitute?
Yes, the best part of this recipe is that you can use dairy milk, almond milk, coconut milk or any milk of your choice. The important thing is that you like the flavor of your non dairy substitute!
How do I know if my bananas are being caramelized in the oven?
Your bananas will start to bubble and become a golden brown color. As they continue to bake, they will release a syrupy liquid, which will become dark. Typically, this process takes anywhere between 10 to 20 minutes, depending on your oven and the ripeness of the bananas.
Tips for Freezing Bananas
Allow the caramelized bananas to come to room temperature.
Then either place your cookie sheet directly in the freezer if you have the space, or place the parchment paper with the bananas in the freezer.
Once the bananas are frozen, about 30 minutes, lift them from the cookie sheet and place in a zip-top bag, removing any extra air.
Bananas freeze well, keep for 3-6 months well wrapped.
My Top Tips
If your dates are too dry, they will not blend very well in the smoothie. To dehydrate them, soak the dates in water for 5-10 minutes before making the smoothie.
Make a double or triple batch of these caramelized bananas. When properly wrapped, they will last for months in the freezer.
Stay in touch with me on Instagram.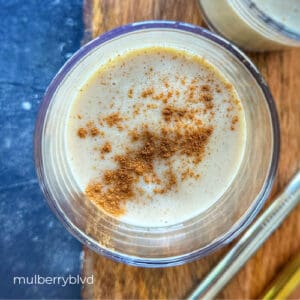 Caramelized Banana Smoothie
A sweet and creamy smoothie made with caramelized bananas, dates, cinnamon, and vanilla.
Ingredients
2

ripe bananas

peeled and halved lengthwise

1

teaspoon

lemon juice

1

teaspoon

brown sugar

2-3

dates (pitted)

2 large or 3 small

⅛

teaspoon

ground cinnamon

¼

teaspoon

vanilla extract

1

cup

milk

or milk alternative

1 - 1 ½

cup

ice
Instructions
Preheat oven to 400 degrees F (200 degrees C).

Peel and halve bananas vertically.

Place bananas on a parchment lined baking tray.

Drizzle with lemon juice and sprinkle with brown sugar.

Bake for 10-12 minutes for ripe bananas. Unripe bananas may need to be baked longer, up to 20 minutes.

Let the pan come to room temperature and place the bananas in the freezer.

To make the smoothie, add the frozen bananas, dates, cinnamon, vanilla, milk, and ice cubes to a blender.
Video