In Iranian homes, drinking black tea is a tradition that has been enjoyed since the late 19th century, when it replaced coffee as the main hot beverage. The quality of the tea, its preparation, and its serving are all considered reflections of Persian household hospitality.
Traditional Persian black tea is served in glass cups to showcase its rich, characteristically deep reddish-brown color. Persian households typically serve this tea unsweetened, with a side of sugar cubes. As the main beverage in many homes, hot tea is enjoyed at all times of the day, all year round.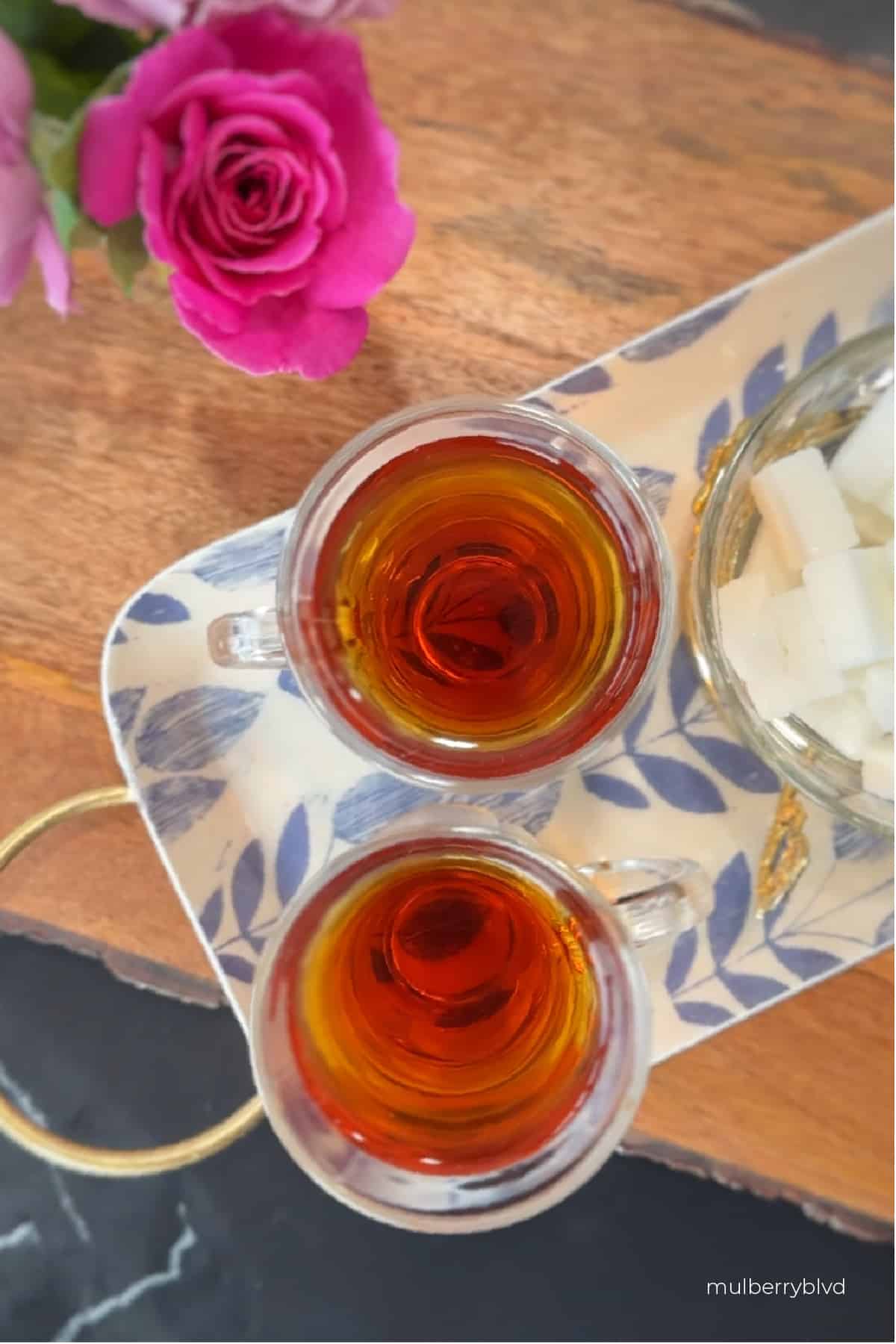 Jump to:
What is Persian Tea?
Persian tea is a blend of black, loose leaf tea. Different spices like cardamom, saffron, or cinnamon can be added to the tea leaves. The tea is brewed in a traditional teapot and kettle set, or a samovar. The result is a rich, sweet, and floral cup of tea.
How to Brew Excellent Persian Tea at Home (step by step)
The first thing is to heat the water by boiling it in a tea kettle.
Place the loose tea leaves and any additional flavors or spices to a teapot. You can use a metal or a porcelain teapot.
Pour the hot water into the teapot.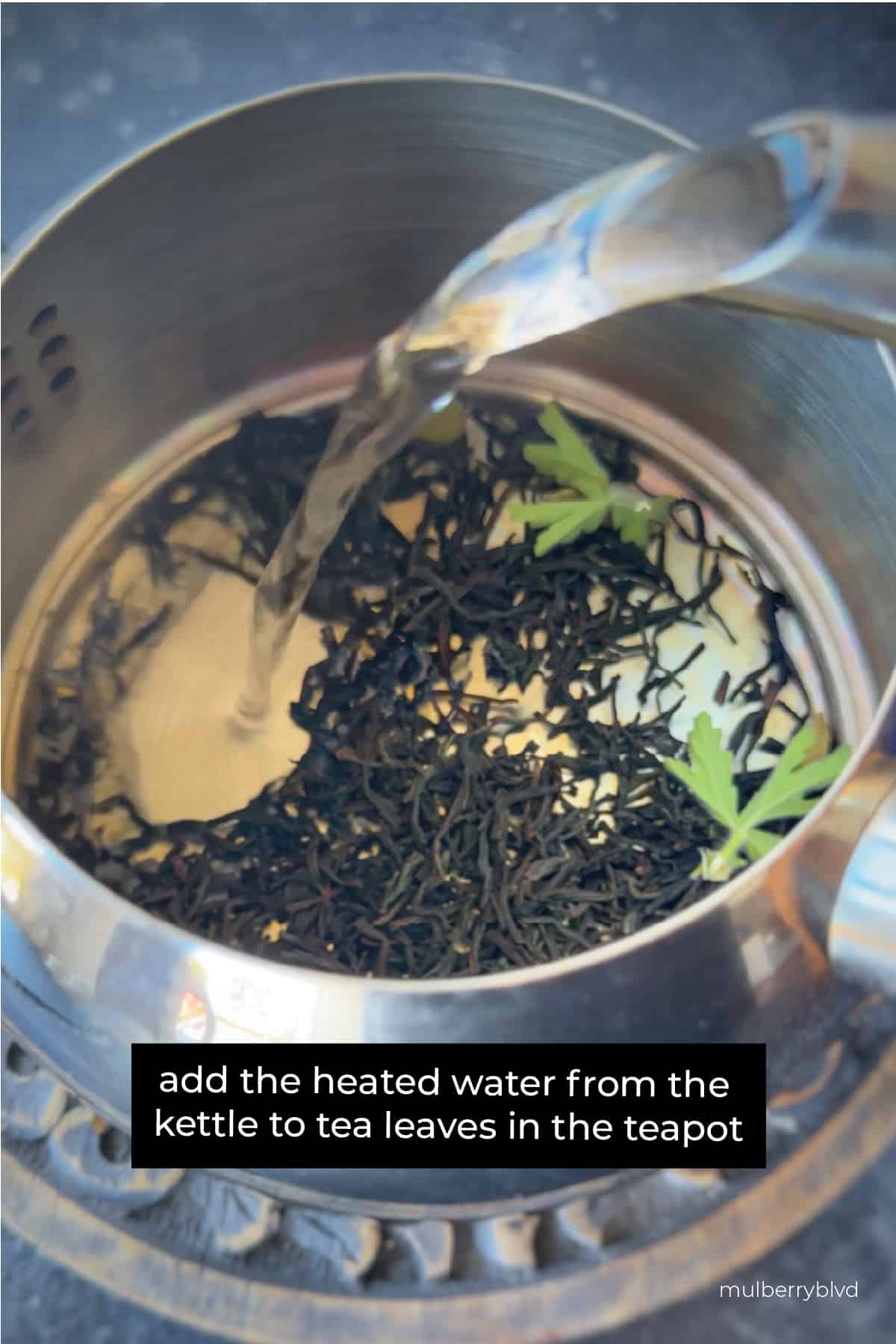 Replenish the water in the kettle if needed. Place the teapot on the kettle and heat the water until it reaches a soft boil. The heat can be turned down to low while the tea is steeping.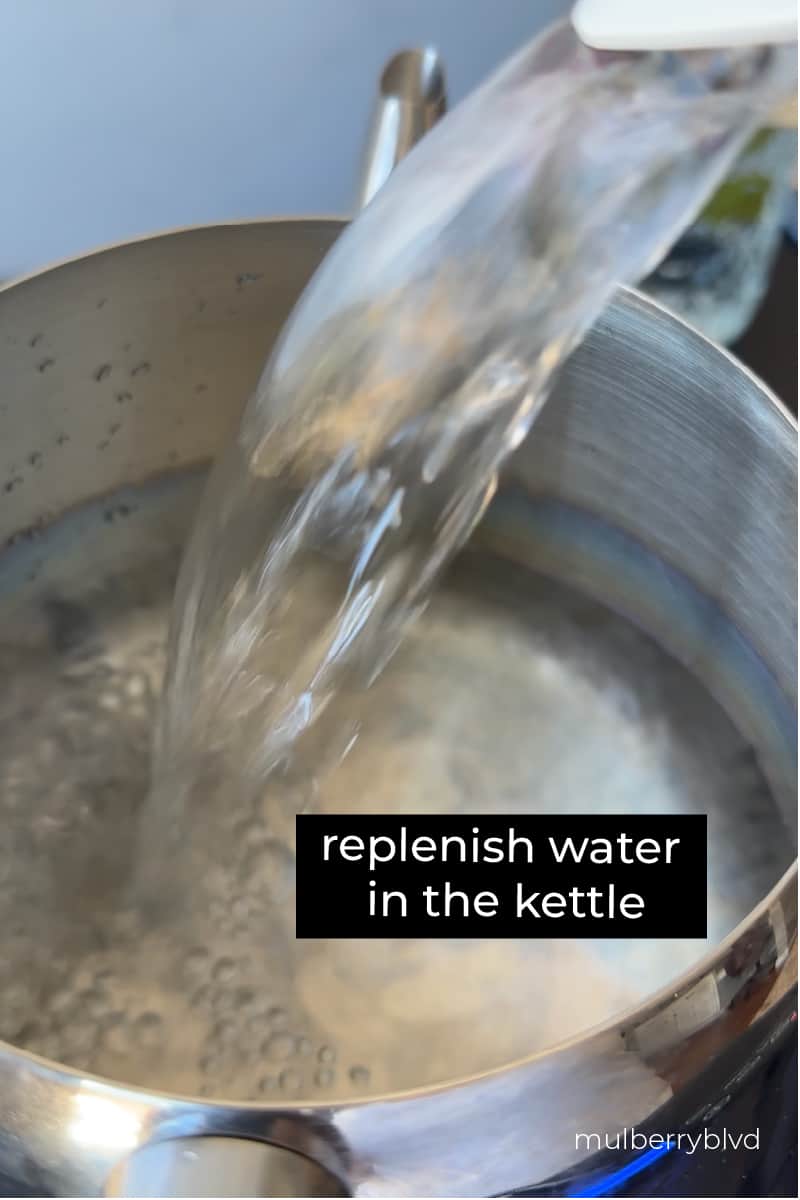 The tea should steep for at least 5 minutes, but for best results, steep it for 15 minutes. The type of tea and the brand can affect how long it takes for the tea to fully brew.
To serve, pour the concentrated tea into a glass serving cup and assess both its scent and color. If the color of the tea is too light, steep it for longer in the teapot. If the tea is too dark, dilute it with boiling water. For best results, use a mesh tea infuser to strain out any loose tea leaves.
Top the concentrated tea with boiling water until you have reached your desired color.
Key requirements for serving freshly brewed tea:
Color: The tea should be translucent and have a rich, reddish-brown color.
Aroma: The tea should have a pleasant aroma, ranging from citrusy to floral to slightly sweet aromas.
Temperature: The tea should be served piping hot.
Flavor: The best teas have a balanced flavor, with floral notes notes and an ever so slightly bitter taste. The tea should not be acidic nor overly bitter.
How to Customize Your Tea the Persian Way
Every Persian home has its own way of customizing their tea. Making your own tea blend is simple. For example, you can choose one or two of the flavors listed below to add to your black tea.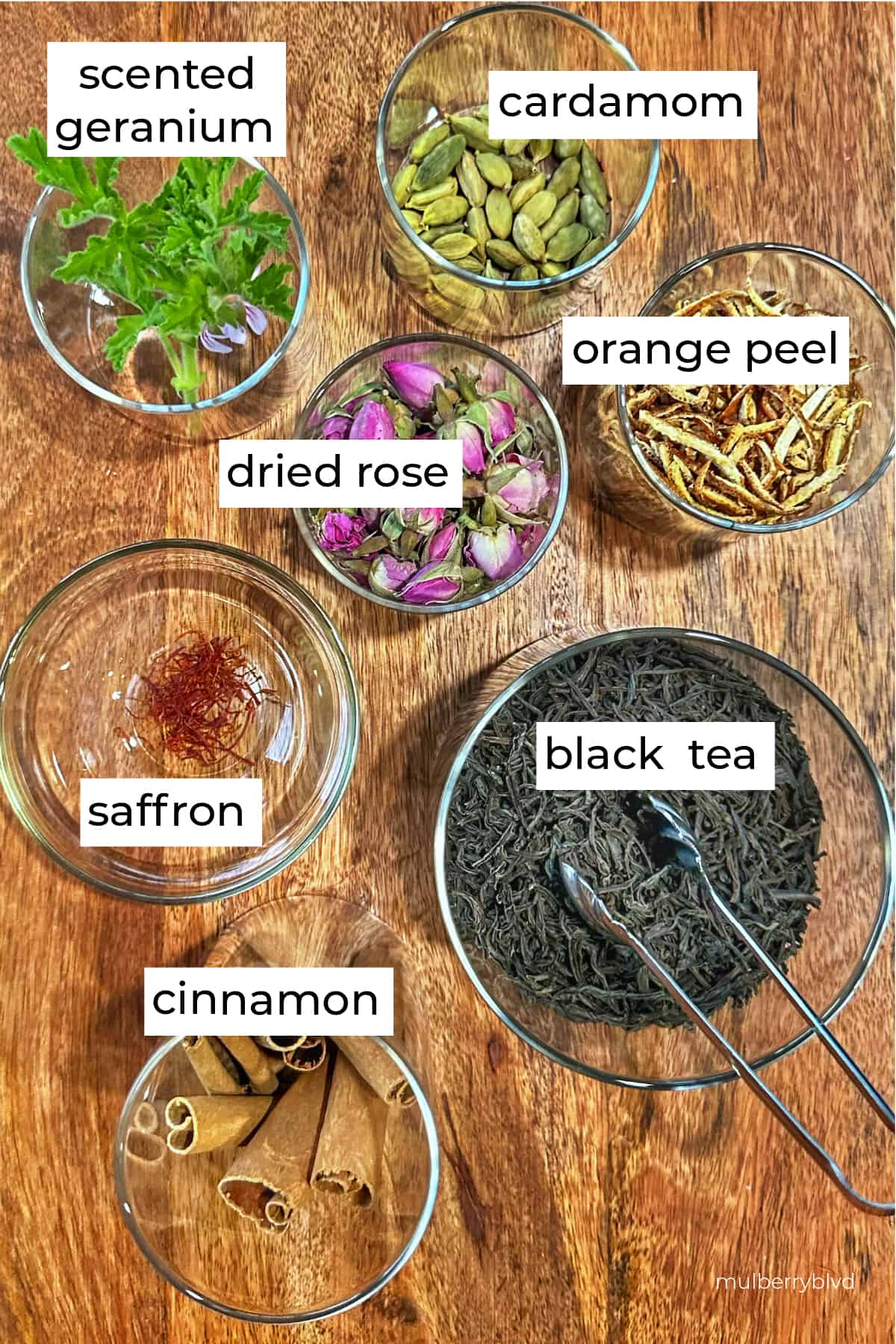 Black tea: earthy, floral, woody, and sweet, depending on the variety of tea; may improve heart health, brain function, and cholesterol levels, and may contain antioxidants that reduce certain cancers
Scented geranium: sweet, floral aroma; may contain calming properties to reduce stress and improve mood
Rose petals: subtle floral aroma; may have calming properties and reduce inflammation
Cinnamon stick: warm and slightly spicy flavor; may help regulate blood sugar levels and improve circulation
Green Cardamom Pods: sweet, slightly peppery taste; may improve digestion and fight infection
Orange peel: sweet citrus flavor; may help immune system and improve digestion
Saffron: delicate floral aroma; may improve mood and boost cognitive function
What is a Samovar?
A Samovar is a large Russian metal container used to make tea. Russian traders brought Samovars to Iran in the mid 19th century. While traditional samovars used coal or wood for heat, modern samovars are electric and easier to use. Today, samovars still remain popular in many rural areas of Iran.
Health Benefits of Drinking Black Tea
Black tea is said to have anti-inflammatory properties and antioxidants, which may lower the risk of heart disease and stroke. It may also boost metabolism and promote weight loss, as well as improve cognitive function. However, it is important to note that black tea contains higher amounts of caffeine. If you are sensitive to caffeine, you may want to try a decaffeinated blend of black tea.
What to Serve with Persian Tea
Persian tea is traditionally served with a bowl of sugar cubes. Some people like to drop the sugar cubes into their tea and stir them until dissolved. This is called cha-ee shirin, or Persian sweet tea. However, the traditional way to enjoy Persian tea is to let the sugar cube dissolve in your mouth as you sip the tea.
Other accompaniments to Persian black tea include dates, raisins, dried mulberries or rock candy (nabat) . Often reserved for guests or special occasions are cookies, cakes, and other sweets accompaniments.
The Use of Tea Bags
Tea bags are a great option for a quick and convenient cup of hot tea. Today, there are many good quality tea bags available. With a tea bag and a cup of hot water, you can enjoy a delicious cup of tea any time of the day.
FAQ
Does tea expire?
Yes, most black tea has a shelf life of 1-2 years. Once opened, it's best to consume within 6-12 months for optimal flavor and aroma. Proper storage in an airtight container in a cool, dark place will help to preserve the tea's freshness.
Why is my tea bitter?
Persian tea can have a slightly bitter taste, but if it is overly bitter, there are a few possible explanations:
Overheated water: Overheated water can cause thermal shock to the delicate tea leaves, resulting in a bitter and unbalanced brew.
Over-steeping: Black tea only needs 15 minutes to steep, but enjoy it for up to 1 hour after brewing. Steeping for longer can result in a tea that is acidic and bitter.
Low quality tea or expired tea: Old or low-quality tea leaves may not have the same flavor profile as fresh tea leaves, and can produce a bitter brew.
Wrong ratio of water to tea: You may be using too much water for the amount of tea that you have, causing the bitterness.
Where can you purchase Persian tea?
Persian tea is typically a blend of black teas including Assam, Darjeeling, Ceylon, Earl Grey and others. Brands such as Sadaf, Ahmad Tea, Shamshiri Persian Tea, and Do Ghazal Tea sell these blends at most supermarkets and online. A robust aroma and rich color are all the signs of its quality.
My Tip For Making the Best Persian Tea
Experiment with different brands and types of black tea until you find one that you like. Don't be afraid to combine two or three different types of tea together to create a new flavor. There are many types of black tea to choose from, including Assam, Darjeeling, Ceylon, Earl Grey, and English Breakfast. My personal favorite is a combination of Ceylon tea and Earl Grey, with cardamom pods for an even better aroma.
Did You Make the Recipe?
I would love to hear your feedback! Please leave a comment and star rating below. You can also pin my recipe on Pinterest or share your creation on Instagram by tagging me @mulberryblvd. Thank you.
Watch my short tutorial video below!
Print
Persian Black Tea (Chaii Irani)
Experience the warmth and hospitality of Persian culture with a cup of perfectly brewed Persian black tea.
Materials
2

tablespoon

Loose black tea leaves

4-5

cups

water, filtered

Optional: cardamom pods, rose buds, cinnamon stick, saffron threads, orange peel, scented geranium
Instructions
In a kettle, bring your water to a boil

While the water is boiling, place the tea leaves in a teapot, along with any other flavors or spices.

Pour about half of the water over the tea leaves and place the lid on the teapot

You can now replenish the water in your kettle if needed. Once the water comes to soft boil, turn the heat to low.

Place the teapot over the kettle, and let the tea steep for a minimum of 5 minutes, but preferably 15 minutes.

Pour the tea into your glass cup, making sure that the color of the tea is to your liking. You will fill your cup ¼ to ½ full, depending on the darkness of the concentrate you have.

Fill the glass cup with more boiling water, enough to fill to the top of the glass.

Enjoy with sugar cubes, dates, or a sweet confection.
Video